I've gotten my first eggs of the season! I'm so excited!

These eggs were from tremper x tremper so I am getting 100% trempers. Very excited!

Here is Rosie (the proud momma) letting me know she left me a present: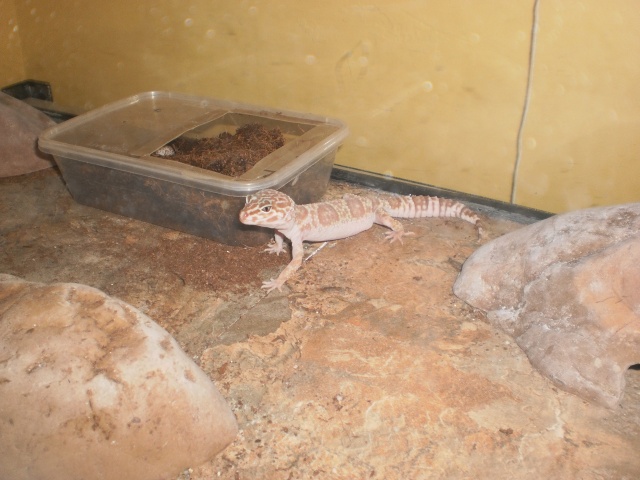 Getting the eggs ready for the incubator:
I'm also expecting eggs from my bell albino and normal, to create normal het bells. Which I will hopefully be using to create my own bell albino line.

_______________________________________________________________
2.10.0.2 leopard gecko/1.0.2 crested gecko/ 0.0.1 blue tongue skink/ 2.0.0 dog/2.1.0 bearded dragon/1.0.0 betta

kathstew

Review Staff




Status : First eggs have been laid!

---

Posts

: 1684


Join date

: 2011-07-06


Location

: Ontario
LGF Points : 3101



Found two more eggs this afternoon! The two I found this afternoon were from a snowglow and a tremper albino. So I should get a bit of a mix from them, some mack snow hypo trempers and some hypo trempers.

_______________________________________________________________
2.10.0.2 leopard gecko/1.0.2 crested gecko/ 0.0.1 blue tongue skink/ 2.0.0 dog/2.1.0 bearded dragon/1.0.0 betta

kathstew

Review Staff




Status : First eggs have been laid!

---

Posts

: 1684


Join date

: 2011-07-06


Location

: Ontario
LGF Points : 3101



Congrats and good luck! I love finding freshly laid eggs, however the best part is when they actually hatch

---
Permissions in this forum:
You
cannot
reply to topics in this forum