Candling Eggs is a fairly informative part of being a breeder. Some times you can look at the outside of an egg and it looks like it is not going to be any good but when you candle it you found out that there is an embryo inside.
With Leopard Gecko eggs candling is actually VERY easy. I always candle my eggs when they are laid and I take them away to place them in the incubator. Yes, even at this stage you can tell if they are fertile or not.
First thing I do is put a mark on the egg so that just in case the egg gets turned around I know which way is up. If the egg gets flipped over the embryo will drown.
Next I gentle grasp the egg between my thumb and pointer finger being careful not to squeeze the egg at all. Out of direct sunlight works better of course and the darker the room the better you can see.
Next you simply shine a flashlight in one side of the egg and look into the other side. If the egg is fertile you should see a red bullseye. Yes, it really looks like a bullseye.
It is as simple as that. EVEN IF YOU DO NOT SEE THE BULLSEYE....INCUBATE.....I ALWAYS ALWAYS INCUBATE UNTIL THE EGG TURNS ROTTEN!!!!!!! If you decide in the end that the egg has turned rotten and will not hatch, please be on the safe side and put it in the freezer over night just to make sure that no poor little leo is going to be hatching in a landfill somewhere.
Now the fun part, here are the pictures:
This is a picture of the bullseye: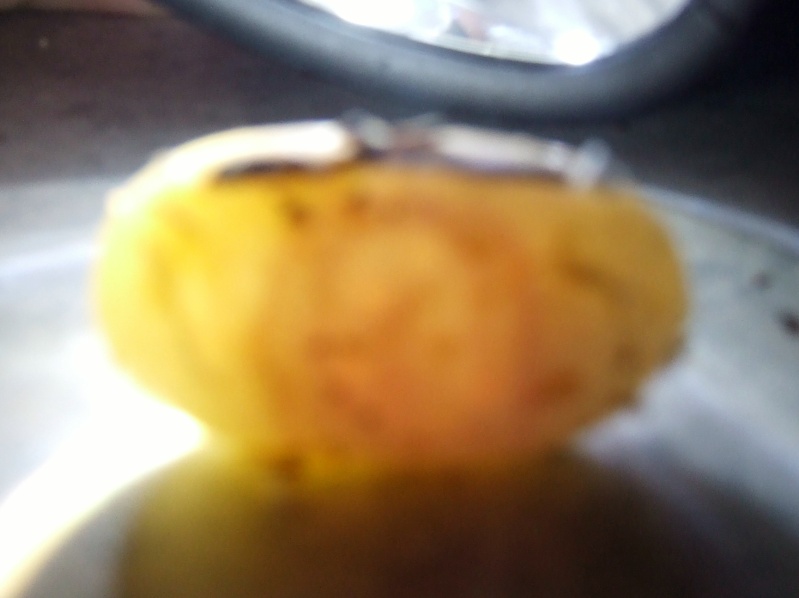 This is an egg that was just laid about 4 days ago.
Here are some pictures of some that were laid 4 weeks ago. The problem is they are stuck together...hopefully they both survive: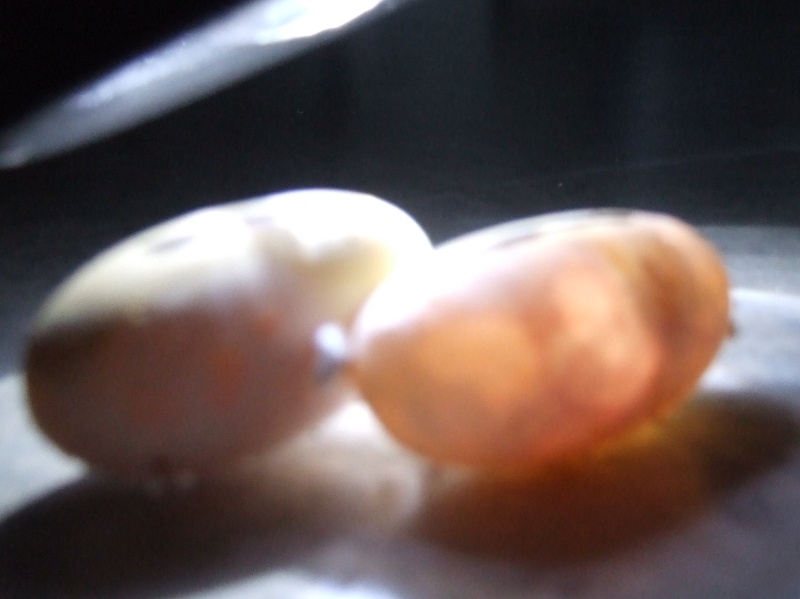 Please feel free to add some pictures of your candled eggs. It would be great to have a gallery of candled eggs at all different stages.
Last edited by smsararas2 on Thu May 12, 2011 9:47 pm; edited 1 time in total
oh yeah i see the bullseye, they look really wierd

_______________________________________________________________
MY PETS
3.6 leopard geckos, 1.0 african fat tail, 0.2 bearded dragons, 1.0 rankins dragon, 1.1 bosc monitors, 0.1 iguana, 0.1 blue tegu, 1.0 coastal carpet python, 1.1 royal pythons & 2.0 corn snakes


samsleopardgeckos

Forum Staff




Status : Trying to tame the Iggy-Pop :)

---

Posts

: 1910


Join date

: 2011-02-21


Location

: Wool,Dorset UK
LGF Points : 2764



WOO!

thats soo cool =]
---
Permissions in this forum:
You
cannot
reply to topics in this forum